What is SalonEverywhere?
We're a marketplace and booking platform that safely and easily connects clients with beauty pros offering services in private or traditional venues. Private venues include your home, a stylist space or a salon suite. Traditional venues include multi-chair salons, spas & barbershops.
Your Pro, Your Venue, Your Choice!
How it Works
Tell Us Where You Are

Enter your zip/postal code to find local beauty professionals.

Find Your Pro

Search for stylists, salons and services. Filter results by location, type and price level.

Set Up Online Consultation

Request a free online pre-visit consultation. Discuss services and styles to find the right pro.

Book Appointment

Once you're happy, book an in-person appointment with your beauty professional.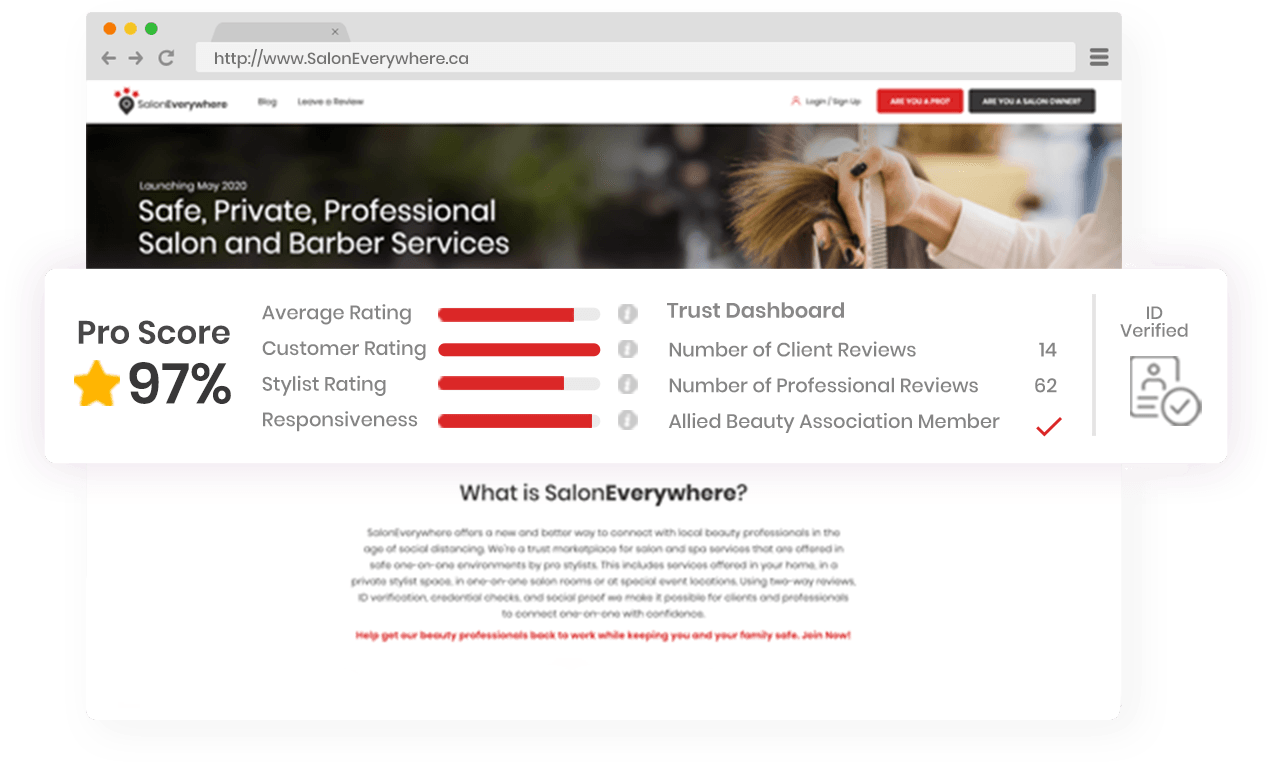 Find Beauty Professionals
With reviews, ratings and verification, SalonEverywhere gives you the tools you need to hire with confidence.
Get matched with artists directly or find your stylist from a list of verified and reviewed beauty professionals.
Read stylist reviews from clients and other beauty professionals. Browse photos and artists' Instagram feeds to find the perfect professional for you.
Pros with a verified badge have passed an ID check. Our Pro Score includes customer and peer reviews, credentials, insurance and membership in the Professional Beauty Association (PBA or ABA).
Book Pre-Visit Online Consultations
Plan your upcoming service and see the venue online before you book an in-person appointment.
Chat with pros and set up pre-visit online consultations to find a stylist you love.
Discuss colour, style, services and location in a free online video consultation.
Compare and find the best beauty professional for you and your family.